It's March 15th and time to duel with the Dueling Darlings! This month our hostesses Kadie, team Divas, and Paola, team Dazzlers, choice the theme "What's Your Brew?". We were given a choice of working with
Coffee or Tea,
depending on whether we were a coffee or tea person. The kit Kadie sent me was full of delicious choices in paper, images, and embellishments that reflect the theme. Here is what is in the card kit:
Stamps: Art Impressions "Cathy Caffeine" or MFT Ala Mode "You're My Cup of Tea"
Paper: Prima - Coffee Break Collection and Amuse gingham patterned paper
Ribbon: Papertrey Ink (brown), Amuse Studio (coral twine), Twinery (teal baker's twine)
Embellishments: All from the Simpe Stories - I Am collection
Can you guess which brew I chose???
I never drink coffee and only occasionally drink tea so it wasn't a difficult decision to choose this Ala Mode image! My Ala Mode image was colored with Copic markers. In addition to elements from the card kit I used Stampin' Up Early Espresso cardstock, some peachy/pink bazzil cardstock and a light minty green cardstock that was punched with a Martha Stewart eyelet design punch. The layout of the cards was taken (with some liberties) from the deconstrucingjen.com sketch DS192 here: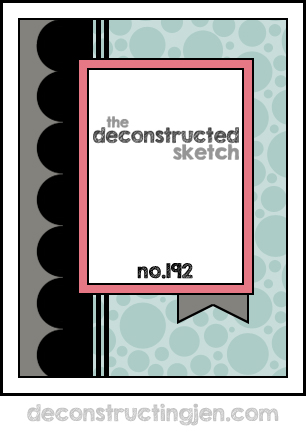 Check out the Divas cards here:
Kelly:

http://sandcastlestamper.blogspot.com
Barb:
http://inkingintoretirement.blogspot.com/
Carol:
http://lostinmycraftroom.blogspot.com/
LJ:
http://buckygirl.blogspot.com/
.
Tami:
http://blueinksdesign.blogspot.com/
Kadie:
http://mymindseyecreations.blogspot.com/
And the Dazzlers creations here:
Jeanette:
http://creativeplayischeaperthantherapy.blogspot.com
April:
http://aprilsallery.blogspot.com
Darlene:
http://accordingtobijou.blogspot.com
Debbie: http://theinkigloo.blogspot.com
Melina:
http://me-craftyscrapper.blogspot.com
Paola:
http://paola-sama.blogspot.com
Terry:
http://itstotallyterry.blogspot.com

Thanks for stopping by!